If you're caring for a child with disabilities, finding critical information and support is hard. We've been there. And we're here to make it easier for you. Read our Founder's story.
Our Mission
Exceptional Lives is a not-for-profit that encourages and guides families and providers caring for children with disabilities by offering information, resources, skill-building tools, and connections to other caregivers. We support family resiliency through clear, compassionate guidance grounded in our own personal experiences.
Our Vision
We envision a world in which all caregivers of children with disabilities have the confidence, information, and support they need to access the resources and benefits their children need to thrive.
What We Do
We all want to give our children what they need to become happy, fulfilled adults. But when our children have disabilities, it can feel impossible to find, understand, and navigate the resources they need to get there.
It doesn't have to be this hard.
At Exceptional Lives, we've been there, we understand, and we are here to guide you and make this journey easier on your family and your child.
We help you find resources and services specific to your child's needs.
We answer your questions, big and small. Call us, text, email, or reach out through Chat!
We use plain language so you don't have to wade through technical jargon.
We are mobile-friendly. You can get to our resources in the grocery line, on the subway, or late at night.
We offer much of our content in both English and Spanish.
We create our resources the way you want them. Listen to a podcast, watch a video, or read on your phone.
We connect you with other parents and caregivers through our website and on social media.
_________

At Exceptional Lives, we know that families come in all shapes, sizes, and forms.
We believe in you. We're here for you.
---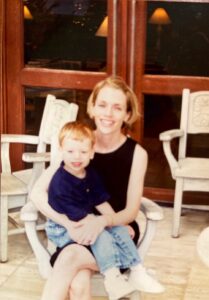 Our Founder's Story
The day my husband and I received our child's diagnosis of cerebral palsy remains imprinted in my memory. As the neurologist's words echoed in the room on that hot, steamy summer day, I held my seven-month-old son in my arms.
A surge of fear washed over me, not unlike the sensation of a rapidly descending elevator. Seeking guidance, we asked the doctor what to do next.
The doctor's advice: "Buy a book and Google cerebral palsy; there are a lot of services out there."
Well-intentioned as it was, this advice left us more puzzled than before. A Google search on "cerebral palsy" led to more bewilderment rather than clarity. My job afforded me little time for personal calls, and the online information I found was often outdated, filled with acronyms, and frequently confusing and condescending.
This intensely personal struggle motivated me to build Exceptional Lives, an organization committed to making it easier for families to get the resources and support their children needed. My goal was to build an organization that offered easily accessible, user-friendly, and up-to-date information online. 
Today, Exceptional Lives is a testament to the dedicated team behind it. Many of us are parents of children with disabilities, and some of us are disabled ourselves. We use our own experiences as fuel to make your experience easier and better because we know you love your children as much as we love ours.